Ruben Goodsell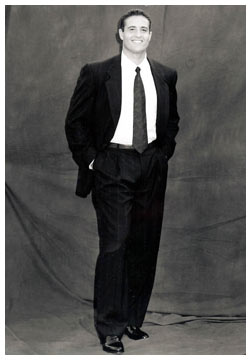 Ruben is Jill's "only son." He has distinguished himself as a son, a father, a husband and a person who contributes to the lives of those around him in a magical way. He has always been an outstanding athlete in every level of school: Male Athlete of the Year, Captain of the USC basketball team, and outstanding student at every level of education. He has been very successful in his business as Vice President at Jones Lang LaSalle.
In the past, he coached his son Jordan's and his daughter Abbey's All-Net basketball teams. He was also the Chapter Director of Yorba Linda's basketball program, and is raising the level of excellence and exposure in the community. All of his life, he worked well with parents and students to help them prepare for the next level, and also to learn that every day is a day to improve. He was tireless in his devotion as a brother to his sister, Jillie, and inspired her as they walked through the levels of autism, severe brain damage, profound retardation and Grand Mal seizures. He is an incredible man to know.
Ruben is married to a magnificent lady Karen with 3 beautiful and wonderful children – Thomas, Isabella and Ben.
Jillie Goodsell
Heaven's Special Child – September 12, 1966 – October 13, 1996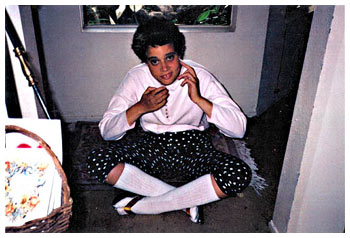 Jill Joanne Goodsell, Jr. – "Jillie" – was born September 12, 1966 and died October 13, 1996. I am sharing with you a little about who she was, what she accomplished and the people she touched in her family, her community and in the world. Because of Jillie, we involved everyone in our world and everything that we did, from my teaching, lecturing, my Studio, my performing, Special Olympics, my son's basketball games – both in High School and in college at USC – everybody was involved with Jillie. Jillie was the training. Jillie was everywhere. Jillie was able to participate in everything. She sat at the right hand of her mother and brother, wherever we were, and so she got to make a difference in the world by her very presence. People met Jillie and, through us, they got to know her. They saw that we treasured and honored her, and we went through whatever we had to go through to give her the quality of life she so richly deserved.
Jillie was severely brain-damaged, profoundly retarded, autistic and had Grand Mal seizures. I considered it my greatest honor to be the mother of my son, Ruben, and Jillie. I hope that her spirit and our example of loving and honoring her in the ways that we did, will be an example and inspiration to others. Her journey from not walking, to walking and speaking a little, and even having a little job at the end of her life, will certainly be a tangible reason for you to see the abundance of good that all of us do by helping each other in all areas of life.
Abbey  & Jordan Goodsell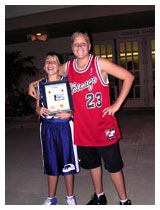 Jordan Taylor Goodsell and Abbey Jeanne Goodsell are Grandma Jill's grandchildren. They both are incredibly fine athletes, magnificent singers and pianists, and are outstanding students in their academics in school. They have been brought up in the theater, watching and learning, as well as performing. They have studied piano and voice and theater with their teacher, Grandma Jill Goodsell their whole lives.
Jordan has graduated from Chapman University and has distinguished himself the day he walked out of college with performance after performance, including "Les Miserables", "Man of La Mancha", "Hairspray", his own personal cabarets, "Beauty and the Beast", Guest Starring on TV and is featured at the Hyperion Theater in Disney's California Adventure in the grand production of "Frozen".
Visit his website for updates and to see what he is currently. Jordan Goodsell's Website